Arch. Darius Dickson Ishaku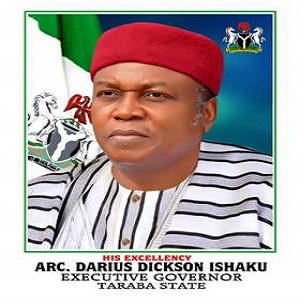 Website: www.tarabastate.gov.ng
Office Date: May, 2015
Address: Government House, Taraba
Birth Date: 30th July 1954
Birth State: Taraba State
Political Party: Peoples Democratic Party (PDP)
State: Taraba State
Arch. Darius Dickson Ishaku was born on 30th day of July 1954 to Mr Ishaku Istifanus and Mrs. Naomi at Lupwe, now in Ussa Local Government Area of Taraba State.
He attended St. Bartholomew's primary school, Wusasa, Zaria, in 1961, and obtained his first school-leaving certificate in 1967. He proceeded to St. Paul's College Kufena, Zaria, for his secondary education, in 1972, where he sat for is West African Examination Certificate (WASC) exams. In the same year he secured an admission with Ahmadu Bello University (ABU), Zaria for his advance Level education, which was then a requirement for gaining admission into university, and he passed out in 1974. In 1974, he was admitted into school of Architecture Ahmadu Bello University, Zaria, where he obtained his Bachelor's of Science Degree in Architecture in 1977. In the following year he enrolled for a Master's of Science (MSc.) Degree in Architecture and graduated with a distinction in 1979.
He enlisted for the one year mandatory National Youth Service Corps Programme during which he was served with the Imo State Ministry of Works and Housing till 1980. After his service year he enrolled for vocational jobs at the Gongola State Housing Corporation in Yola. Soon after, he went ahead to pursue a Master's Degree in Urban and Regional Planning,
His professional career started off in 1980 as an Architect with Inter Design Partnership, but resigned after a year to join Bestarc International Association, where he rose to the position of a Director in 1983. In the same year he registered his company, Excelare Partners- an Architectural, planning and Engineering firm where he acted as Managing Director. With several decades of architectural practice and experience along with an insatiable thirst for higher academic laurels, he began a PhD program in Architecture also at Ahmadu Bello University (ABU), Zaria in 2007.
Arc Darius Dickson Ishaku is a Registered Member of the Nigerian Institute Of Architects, and became a fellow of the institute of Architecture (FNIA). He is also a member of Nigerian Institute of Town Planners. Amongst his prominent designs are: The central post office (boat design), Garki Abuja; Market and shopping complex Area 7 Garki-Abuja; Faculty of distance learning and continuing Education, University of Abuja; Coordination of Development of Phase III District (FCDA) Abuja; 10 (Ten) story residential Apartment block Abuja; Phase III General Land use Plan of Abuja Master Plan and 1000 Seat Lecture theatre and the Veterinary Teaching Hospital, ABU, Zaria. In form of good faith he offered free services on various community projects including but not limited to Mitosath Clinic (River Blindness Clinic/Hospital) Jos, Renovation of Hekan Cathedral and Primary School Kaduna, Design and Supervision of Church Building Gubuchi-Ikara, Kaduna State, Design and Supervision of Hekan Church, Jalingo Taraba State and Albarka Baptist Church Kaduna
He contested for the 2015 Gubernatorial elections under the umbrella of the Peoples Democratic Party (PDP) and emerged winner, hence, the Governor of Taraba State.