Babajide Olusola Sanwo-Olu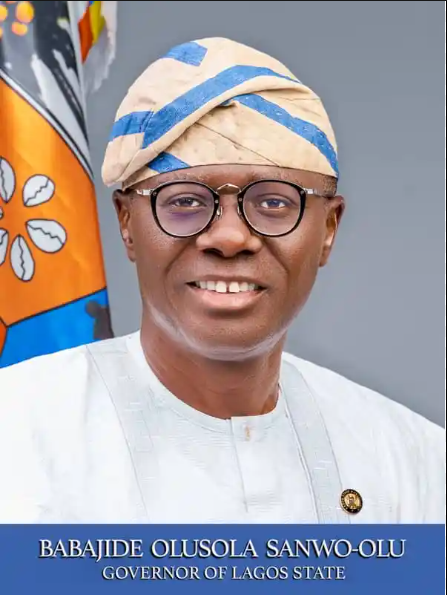 Website: https://lagosstate.gov.ng/
Office Date: May 2019
Address: Government House, Damaturu
Birth Date: 25 June 1965
Birth State: Lagos State
Political Party: All Progressives Congress (APC)
State: Lagos State

Babajide Olusola Sanwo-Olu (born 25 June 1965) is a Nigerian politician who has been serving as the Governor of Lagos State since 2019. He was elected governor under the platform of the All Progressives Congress (APC) after winning the APC gubernatorial primaries against the incumbent governor Akinwunmi Ambode in October 2018.
Sanwo-Olu received his early education at Government Demonstration School, Gbaja Surulere, and later attended Ijebu-Ife Grammar School in Ogun State for his secondary education. He holds a BSc in Surveying and an MBA from the University of Lagos. He is also an alumnus of the John F. Kennedy School of Government, the London Business School, and the Lagos Business School. He is an associate member of the Chartered Institute of Personnel Management (CIPM) and a fellow of the Nigeria Institute of Training and Development (NITAD).
Prior to his political career, Sanwo-Olu had a successful career in banking. He held various positions in banks such as Lead Merchant Bank, United Bank for Africa, and First Inland Bank (now First City Monument Bank). He also chaired the board of companies like Baywatch Group Limited and First Class Group Limited.
In public service, Sanwo-Olu began his political career in 2003 when he was appointed Special Adviser on Corporate Matters to the deputy governor of Lagos State. He later served as the acting Commissioner for Economic Planning and Budget, Commissioner for Commerce and Industry, Commissioner for Establishments, Training and Pensions, and the Managing Director/CEO of the Lagos State Development and Property Corporation (LSDPC).
Sanwo-Olu declared his intention to run for the office of the governor of Lagos State under the platform of the APC in September 2018. His declaration received endorsements from major stakeholders in Lagos State politics, leading to the withdrawal of other candidates from the gubernatorial race. He won the APC primaries and went on to win the 2019 Lagos State gubernatorial election, defeating his opponent Jimi Agbaje. He was sworn in as the 15th Governor of Lagos State on 29 May 2019.
As governor, Sanwo-Olu has been involved in various development activities, including road construction projects. He commissioned the Oshodi-Abule-Egba BRT Lane and has been working on improving infrastructure in the state. He was reelected as governor in the 2023 Lagos State gubernatorial election, defeating Gbadebo Rhodes-Vivour of the Labour Party (LP) and AbdulAzeez Olajide 'Jandor' Adediran of the Peoples Democratic Party (PDP).
Throughout his career, Sanwo-Olu has received several awards, including the Platinum award from the Lagos State Public Service Club, the Best in Human Capital Development award from the Industrial Training Fund (ITF), and the Media Nite-Out Award for Best Governor of the Year in 2020.