Rt. Hon. Sheriff Oborevwori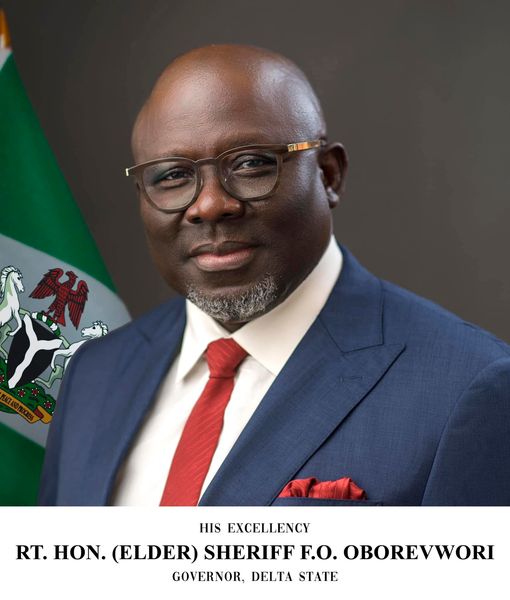 Website: https://www.deltastate.gov.ng
Office Date: May 2023
Address: Government House, Asaba
Birth Date: 19 June 1963
Birth State: Delta State
Political Party: Peoples Democratic Party(PDP)
State: Delta State

Rt. Hon. Sheriff Francis Orohwedor Oborevwori is a Nigerian politician who is the current Governor of Delta State. He is the immediate past Speaker of the Delta State House of Assembly as a representative of the Okpe Constituency of Delta State under the People's Democratic Party. He was declared the governor-elect of Delta State on March 20th 2023 after winning the gubernatorial election that was conducted on March 18th 2023(PDP).
Sheriff Oborevwori was born on June 19, 1963, to the family of Chief Samuel and Mrs. Esther Oborevwori in Osubi town, Okpe Local Government Area of Delta State. He attended Alegbo Primary School for his early childhood education and later completed his secondary education at Oghareki Grammar School, Oghareki. He earned a bachelor's degree in political science from Ambrose Ali University, Ekpoma, in 2004 and a master's degree in political science from Delta State University, Abraka, in 2010. Oborevwori also participated in leadership executive certificate programs at the Alliance Manchester Business School of Manchester University and the London School of Economics and Political Science, focusing on leading inclusive development.
Oborevwori's political career began at the grassroots level as the Chairman of the Okpe Community. In 2015, he gained prominence after being elected as the representative for Okpe State Constituency in the Delta State House of Assembly under the PDP. He served in various government positions for 19 years, starting as a Councillor in 1996. On May 11, 2017, following the impeachment of the then Speaker, Rt. Hon. Monday Igbuya, Oborevwori was elected as the Speaker of the Delta State House of Assembly. He was reelected in 2019 for a second term as the Speaker after winning the election to represent his constituency, the Okpe State Constituency.
Oborevwori is a member of several professional bodies, including the Nigerian Institute of Management (Chartered), Chartered Management Consultant Chartered Institute of Management Consultants (Canada), and the Institute of Chartered Mediators and Conciliators (FICMC). He has received recognition for his contributions, such as the Legislative Icon Award from the National Association of Nigerian Students (NANS) and a chieftaincy title, the Ukodo of Okpe, bestowed upon him by His Royal Majesty, the Orhorho 1, Orodje of Okpe, in acknowledgment of his efforts in the growth and development of the Okpe Kingdom.
Additionally, Oborevwori has been involved in philanthropic endeavors. He provided scholarships to 25 indigene and non-indigene students in Okpe Local Government for the 2018/2019 academic session and supported entrepreneurship through the Oborevwori Foundation Scholarship Scheme. He also donated vehicles, tricycles, and various empowerment items to support petty traders, market women, and artisans in his constituency.