Prof. Benedict Ayade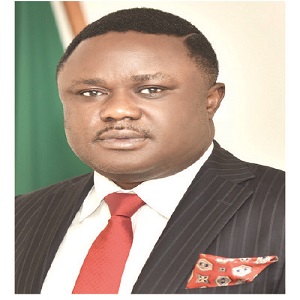 Website: www.crossriverstate.gov.ng
Office Date: May 2015
Address: 1 Marina Road Calabar, Cross River, Nigeria
Birth Date: 2nd March 1969
Birth State: Cross River State
Political Party: Peoples Democratic Party
State: Cross River State
Mr. Benedict Ayade was born on 2nd March 1969 in Cross River State.
He studied at the University of Ibadan, Ambrose Alli University in Ekpoma and Delta State University, Abraka, becoming a Lecturer. He proceeded to pursue a career in environmental consulting. He was appointed Chairman of the Ecological fund, Chairman of the International Institute of Environmental Research and a member of SPAC. He also worked on Groundwater Remediation in Nigeria, and invented a sewage treatment plant based on solar energy. An addition to his laurels as an environmental consultant was an award from the government of Japan for outstanding research into Global warming in Africa. He became a member of the Nigeria Association of Petroleum Engineers and the Cross River State Poverty Alleviation Board.
Mr. Benedict Ayade during his political career held many positions including PDP chieftain in Cross River State, member of the Strategy Committee in the government of Senator Liyel Imoke, whose election as governor was nullified in 2008.
In the January 2011 PDP primary elections, Ayade contested for the Cross River North but was later restrained from presenting himself as a candidate by a court injunction on the grounds of violating the electoral Act due to a N20 million donation to the Liyel Imoke Campaign petition. Eventually, the allegation was found to be untrue and the case was thrown out in court. He has ever since held positions in the Senate including Vice-Chairman of the Senate committee on Environment and Ecology and member of the Senate Committees on Education, Marine Transport, Petroleum Downstream, and Drugs/Narcotics/Crime.
In 2015, he contested in the gubernatorial election in the State under the umbrella of the Peoples Democratic Party (PDP) and emerged winner, hence, the Governor of Akwa Ibom State