The stage is set in a rural setting with a man dressed in traditional wear threatening to beat his wife. Then, another gentleman dressed in a suit stops him and tells him that is not how to behave. The wife of the gentleman comforts the rural woman that was about to be beaten. She states that she was in her position not too long ago. She accepted abuse and thought it was normal.
Time flashes back and the same young woman recalls a moment from a past relationship where she expressed anger towards her boyfriend for not beating her.
She told the boyfriend that because he did not beat her, then that must mean that he does not love her. The boyfriend consoled his future wife by saying that he would never lay his hands on her. That he would be by her side, and they would work through the challenges by obtaining counseling.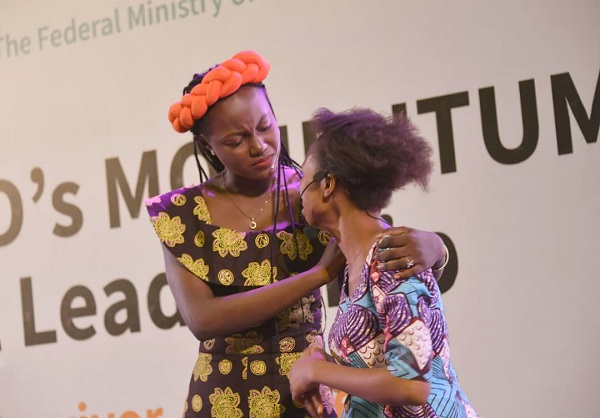 The dramatization marked the start of the official launch of USAID's MOMENTUM Country and Global Leadership. In attendance at the event was the MOMENTUM Country and Global Leadership Project Director, Chioma Oduenyi, the Honourable Minister of Federal Ministry of Women Affairs, Dame Pauline K. Tallen, the Permanent Secretary, Federal Ministry of Women Affairs, the Ambassador Anthonia A. Ekpa, and the representatives of the Executive Governor of Sokoto and Ebonyi State.
Also, in attendance was Mary Beth Leonard, United States Ambassador to Nigeria. To kickstart the launch, Chioma Oduenyi spoke about the necessity of the initiative. To strengthen the multisectoral mechanisms. To address the contributors to consequences of violence against women and girls.
The implementation period of this project is from August 2021 to September 2024. The primary aim of the initiative is to address intimate partner violence, sexual violence, and early child and forced marriage.
The representative of the United States Ambassador to Nigeria, Mary Beth Leonard stated that USAID would work with institutions to discover challenges related to human rights violations against women and girls. She said that we need to make universities and educations a harassment-free zone.
"We look forward to collaborating with ministries of health and foreign affairs. We remain committed to ending gender-based violence in Nigeria."
The Honourable Minister for the Federal Ministry of Women Affairs, Dame Pauline K. Tallen said that the stage drama was well-represented, adding that women are badly abused in our society.
"I invite everyone here to rise up, speak out and condemn all forms of violence and abuse against women and girls. We need to raise the bar in advocacy efforts" said Tallen.
Tallen added that there are high reported cases of rape and incest. That the list is endless. She said that it is important to note that gender-based violence is not just a human rights issue but also a moral problem.
She further stated that the World Health Organization has said that 1/3 of women have experienced sexual violence in their lifetime. "As a result of the rising cases of gender-based violence in Nigeria, I had a meeting with the Nigeria Governors' Forum, and we agreed to call for an emergency against gender-based violence."
Tallen also commended the wives of the governors for saying No to gender-based violence. She commended the wives for their commitment to ending gender-based violence by forming the coalition of the Nigeria Governors Wives Against Gender-Based Violence.
READ MORE AND SEE MORE PHOTOS VIA OUR SOCIAL MEDIA CHANNELS
By Isioma Ononye,
Social Media Manager, NGF