The Nasarawa State Investment summit was meant to serve as a platform to present credible and bankable investment opportunities that are market-ready for investor engagement and to foster closer collaboration and partnership between the private sector and the government in building a stronger business environment.
It was also organized to serve as a platform to engage with Government and Business leaders to invest and do business in Nasarawa State.
At the summit, the Governor of Nasarawa State, His Excellency, Abdullahi Sule stated that the Summit is aimed at positioning Nasarawa State as an investment destination among the top three most competitive States in Nigeria by 2023 in terms of accelerated growth, increased economic opportunities, social inclusion, and improved quality of life of the citizenry.
The Summit was held on the 11th and 12th of May at Lafia, Nasarawa State with the theme of "Diamond in the Rough,'' the making of a new investment frontier.
The Governor further stated that as a state, they have been deliberate in stimulating the economy, building human capacities, creating wealth, and generating employment.
In 2019, they constituted the Economic Investment Advisory Council, headed by Prof. Konyisola Ajayi (SAN) and other respectable members both within and outside the country, with the objective of providing strategic advice and support to the Government in promoting economic development and attracting investment into the State.
''I am happy to inform you that the recommendation of the Council has resulted in the development of the Nasarawa Economic Development Strategy (NEDS) and the subsequent establishment of the Nasarawa State Investment Development Agency (NASIDA), under which auspices we are gathered here today, as well as the enactment and signing into law of the Nasarawa Public Procurement Law toward ensuring transparency, accountability, and prudent management of public resources,'' said the Governor.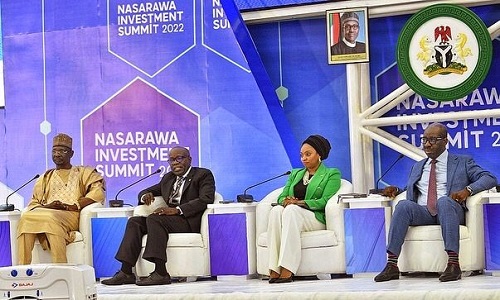 As part of the discussions for the summit was the theme of "Collaboration for Growth: a discussion on how sub-nationals can utilize their shared strengths'' which was chaired by the Director-General of the Nigeria Governors' Forum, Mr. Asishana B. Okauru.
Mr. Okauru said that at the NGF, we have a policy hub for driving action, we interface on behalf of all the states, federal ministries, departments, and agencies.
He added that just as we are attracting investments, we must be mindful of the kind of investments we attract to the state. The DG then commended the Governor of Edo State for his track record with the work done in his state.
''The Governor of Edo State has a track record that is unbeatable. He has done so much. He chairs a lot of the committees at our forum. He would be able to drive home why we think collaborating for growth is important,'' said Mr. Okauru.
Governor Godwin Obaseki stated that in Edo State, they know that the most important resource in their state is its people. ''Almost 70 percent of our people, the demographics, is skewed towards the young people and if you don't invest in people, then what is the purpose of our infrastructure or of our existence?'' said Mr. Obaseki.
He added that education is a priority in Edo State and not just having an education but obtaining a quality education. ''For us, ensuring that children go to school and learn is key. That means investing and prioritizing teachers and making sure that they are equipped to pass on knowledge to children.''
As far as accomplishments in terms of education in Edo State are concerned, the Governor beamed that in his state, they have almost 300,000 children in public and private schools, from primary 1 to primary 6 that are reading at a 70 percent level compared to that of their peers in Europe or Asia.
In terms of numeracy, there is 65 percent in terms compared with their peers in developing countries. ''The point for us is that in all we do, the priority is our people and making sure that we change the imbalance in the education eco-system. It's important to make sure that the foundation is laid because it is from this foundation that you would build everything else,'' he stated.
Concerning his own state, Governor Sule disclosed that they designed a document with their vision and mission explaining why the government has no business being in business, rather, he said that government is there to ensure that they provide the right infrastructure and environment to be able to facilitate businesses.
''We design what we want. We know exactly what it is. We know the kind of people that we have, and we know we have great potential in Nasarawa State,'' said Governor Sule.
AA Sule emphasized that they focus on their area of a competitive advantage which is agriculture. Mining is the second. ''Agriculture is not only the biggest employer of labor. It is also the low-hanging fruit for us,'' said Governor Sule and further stated that in his state, they use their competitive advantage to get to where they should be.
''We have a people who are willing and determined to make Nasarawa State great,'' said Governor Sule.
The summit consisted of other panel sessions that highlighted sustainability, providing innovative solutions to complex problems: financing infrastructure in sub-nationals, a discourse with existing investors in the state, promoting a knowledge-based economy as a critical pillar for growth and funding, fostering, and fuelling SME and IT growth.
Some of the overall goals of the summit are to build and enhance private sector involvement in good governance and policymaking, especially as it involves the delivery of the Nasarawa Economic Development Strategy (NEDS), and to provide an inclusive platform and methodology that promotes the participation of all key stakeholders in NEDS implementation.
By Isioma Ononye,
Social Media Officer