Led by its Abuja branch chairman, Dr. Dave Nwogbo, the University of Nigeria Alumni Association (UNAA) recently paid a courtesy visit to the Nigeria Governors' Forum (NGF) Secretariat, Abuja.
Like the finely mentored old pupils they are, the venerable institution's anthem led proceedings in the Committee Room of the Secretariat. "Hail Varsity of Nigeria, My Alma mater, Hail her and rejoice for the sake of truth. Where young men and women do seek knowledge…
"Where the nation's potentials do brood in the nest, hail her, and rejoice for her noble ideas. Hail Varsity par excellence our dreams come true," the visiting alumni solemnly recited.
Thereafter, Dr. Nwogo, alumni president addressed the NGF, clarifying the visit was aimed at identifying with NGF Director-General, Mr. Asishana B. Okauru, on the excellent job he has been doing at the Secretariat.
"The Alumni of the University of Nigeria Nsukka are proud of you. We are preparing an Honorary Membership Award of the University of Nigeria Nsukka for you, based on your leadership quality and impactful human capital development credentials," he said.
He stated that the alumni are also aware of the DG's passion for education and national sustainable development which has prompted the establishment of an Education Unit at the Secretariat.
To this effect, the President of the Alumni association nominated the Director-General to be their keynote speaker at the Association's 109th National Executive Council (NEC) meeting coming up on the 27th of August 2022 in Abuja.
"We appeal to you to please accept our nomination as we believe it will allow you to also inform Nigerians of your passion for addressing the educational challenges in Nigeria as our members in 36 states including the FCT will be in attendance," he said.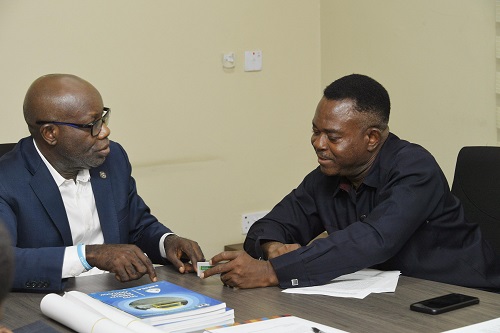 The NGF DG responded he would honor the invitation and would be happy to speak at the Almuni's 109th National Executive Council meeting.
His words: "It's important to mobilize the alumni to help and provide resources for current students and we must do everything to bring the alumni on board." He further stated that the NGF wants to deepen its reach around the education sector.
He counseled the UNN alumni branch to explore pathways to strengthen the education sector in sync with its national body and also improve modes of communication with past students.
Responding, Dr. Nwogbo affirmed it remains a priority for the alumni association to seek ways for partnerships to strengthen the educational body.
He expressed the varsity alumni's happiness at visiting the NGF Secretariat and knowledge there are fellow graduates of the university present at the secretariat such as the NGF Librarian and Record Manager, Mrs. Naomi Onoriode Tietie, and the NGF's Technical Assistant, Mrs. Juliet C. Chima.

By Isioma Ononye,
Social Media Officer