BudgIT Nigeria, a Nigerian civic organization that applies technology for citizen engagement with institutional improvement to facilitate societal change hosted the 2022 States of State on Sustainable Governance Reforms for A New Era on Thursday, October 13th, 2022 at Transcorp Hilton.
The Nigeria Governors' Forum was represented by its Director-General, Mr. Asishana Bayo Okauru, the Senior Program Manager at NGF, Mr. Olanrewaju Ajogbasile, and Ms. Zubaida Abiola, the Senior Program Associate at the NGF.
The keynote speaker was Professor, Anthonia Simbine, the Director-General, NISER who stated that reforms could be consolidated or activated by states.
According to Simbine, states can consolidate what they are doing, and the first area is that of political leadership adding that there should be support for political institutions which should have accountability channels such as open governance.
Her words: "States could walk in partnership within the geopolitical zones to address security and infrastructure challenges. States could also embrace expenditure programming models to make sure projects are prioritized and completed."
Stating that there is still room for the budget process in Nigeria to be more transparent she noted the benefits of public disclosure of data to facilitate service delivery and promote accountability and transparency.
She also held that government data including finance-created ones should be uploaded to designated websites and portals and be accessible to citizens.
At the dialogue, the DG of the NGF, Mr. Asishana Bayo Okauru said a lot has been done such as the National Chart of Accounts (NCoA) which is published in all 36 states and this represents a shift from what was done from 2016 till date.
Mr. Okauru further stated that ''BudgIT has served as a major tool for working with our Principals. For BudgIT, you can count the Nigeria Governors' Forum as a partner. We would keep working with you. On behalf of the 36 Governors, we want to thank BudgIT for this. We want to make this available to every Nigerian to formally launch this.''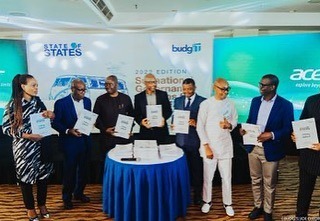 The second panel discussion at the event was on mainstreaming sub-national reforms without incentivizing and the NGF was represented by Mr. Olanrewaju Ajogbasile as a speaker and Ms. Zubaida Abiola as the moderator.
Mr. Lanre said that reform conversations have now become easier and that in terms of capacity, the NGF took a different approach and focused on the practical such as questioning how to convert knowledge to produce the budget.
His words: "At NGF, we advocate at the highest level. Some of the benefits are that we have been able to have an independent office carry out its functions. Also, they can do performance audits. We hear about government programs but who is tracking the results? Who goes back to check? This is where the audit office has a role to play."
Responding to the poser as to whether the NGF enables information on SFTAS to be passed on to new governors during their transition, Mr. Lanre clarified that ''our role is to ensure that the new Governors buy into the vision. We do an induction for new Governors and work with the transition committee for the new Governors. We ensure that they understand the process that must be followed.''
He added that what is most important is that laws be respected and stated that there is a need for accountability. "We need to be targeted. We must be able to build and sustain demand for accountability," he said.