Ademola Adeleke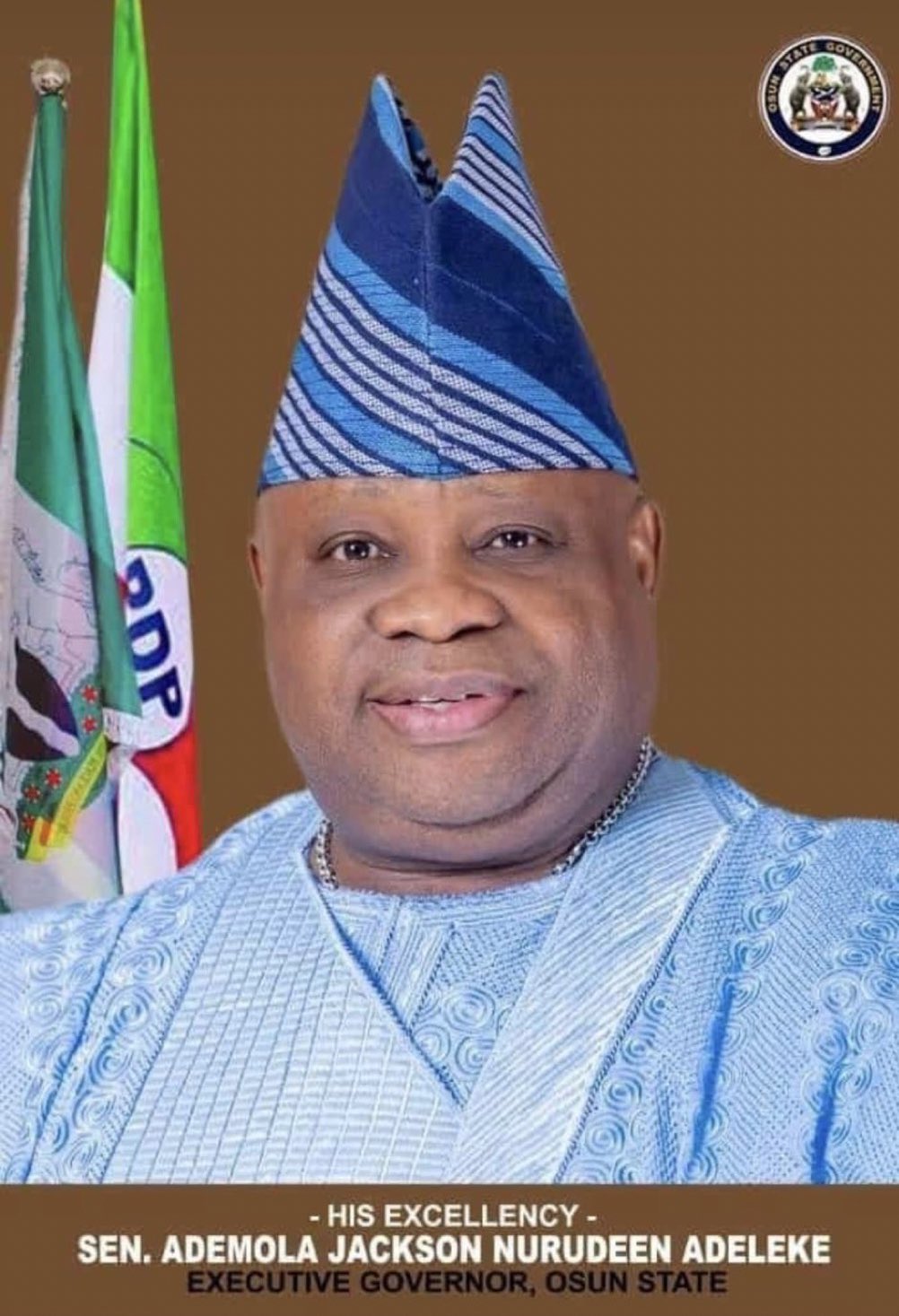 Website: https://www.osunstate.gov.ng/
Office Date: Novenber 2022
Address: Government House, Osogbo
Birth Date: 13 May 1960
Birth State: Osun State
Political Party: Peoples Democratic Party (PDP)
State: Osun State

Ademola Nurudeen Jackson Adeleke is a Nigerian politician and businessman who has been serving as the governor of Osun State since 2022. He previously represented the Osun-west senatorial district in the Nigerian Senate from 2017 to 2019.
Adeleke hails from the Adeleke family of Ede in Osun State. He contested in the 2022 Osun State gubernatorial election under the platform of the Peoples Democratic Party (PDP) and emerged victorious, defeating the incumbent governor, Adegboyega Isiaka Oyetola of the All Progressives Congress (APC), who had defeated him in the 2018 Osun State gubernatorial election rerun.
Adeleke began his primary education at Methodist Primary School in Surulere, Lagos State, before relocating to Old Oyo State, where he attended Nawarudeen Primary School in Ikire. He then continued his education at The Seventh Day Adventist Secondary School in Ede, also in Old Oyo State, before moving to the United States. He pursued higher studies at Jacksonville State University in Alabama, majoring in criminal justice with a minor in political science. Following controversies surrounding his educational qualification, he furthered his education at Atlanta Metropolitan State College in the United States, earning a Bachelor of Science degree in criminal justice in 2021.
In addition to his political career, Adeleke has a background in business and administration. He served as an executive director of Guinness Nigeria Plc from 1992 to 1999, alongside notable co-directors such as General Theophilus Danjuma. He also held the position of group executive director at Pacific Holdings Limited, a company owned by his brother, from 2001 to 2016. Prior to that, Adeleke worked with Quicksilver Courier Company in Atlanta, Georgia, as a service contractor from 1985 to 1989. He later became the vice president of Origin International LLC, a flavors and fragrance manufacturing company based in Atlanta, Georgia, from 1990 to 1994.
Adeleke is actively involved in his community and is known for his philanthropic endeavors. His political journey began in 2001, alongside his late brother, Senator Isiaka Adeleke, who passed away in April 2017. Ademola contested and emerged as the winner of the Osun-west by-election in 2017, representing the People's Democratic Party (PDP).
Although Adeleke was initially a member of the All Progressives Congress (APC), he defected to the People's Democratic Party in April 2017. He went on to secure the PDP's governorship candidacy in Osun State on July 23, 2018, after defeating Akin Ogunbiyi by a margin of seven votes.
Adeleke contested the Osun State governorship election on September 22, 2018, against prominent contenders such as Alhaji Gboyega Oyetola of the APC and Iyiola Omisore of the Social Democratic Party (SDP). The election was declared inconclusive by the Independent National Electoral Commission (INEC), leading to a rerun scheduled for September 27, 2018. Ultimately, the APC candidate, Gboyega Oyetola, was declared the winner after the run-off. Adeleke contested the result, describing the election as a "coup."
On March 22, 2019, the tribunal sitting in Abuja declared Adeleke as the winner of the election. The Supreme Court later affirmed Gboyega Oyetola as the authentic winner of the 2018 Osun State governorship election on July 5, 2019.
In 2022, Adeleke once again contested in the gubernatorial election held on July 16, representing the PDP. He emerged victorious, defeating incumbent governor Gboyega Oyetola by securing 402,979 votes compared to Oyetola's 375,077 votes. Adeleke won in 17 local government areas, including Olorunda, Ede South, Orolu, Osogbo, Odo Otin, Ifelodun, Boluwaduro, Atakumosa, and Ila.