Akeredolu Oluwarotimi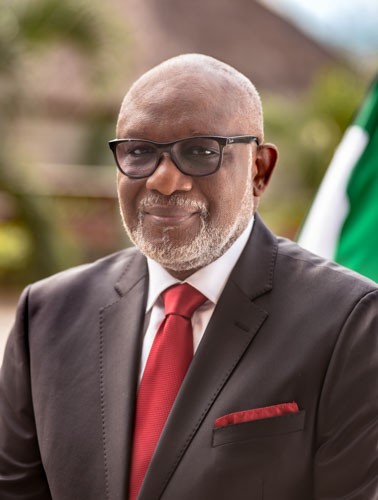 Website: www.ondostate.gov.ng
Office Date: 24th February, 2017
Address: Government House, Akure
Birth Date: 21st July, 1956
Birth State: Ondo State
Political Party: All Progressive Congress (APC)
State: Ondo State
Early Life
Born on 21st July, 1956 in Owo, Ondo State to Late Rev. J. O Ola Akeredolu of Owo and Lady Evang. Grace Akeredolu of Igbotu Ese Odo Government Area of Ondo State. The young Oluwarotimi Odunayo Akeredolu.
Education
AKETI as fondly called by friends and admirers started his primary School education at Government School Owo before proceeding to the famous Aquainas College Akure in 1968. He later proceeded to the prestigious Loyola College, Ibadan in 1969 to complete his secondary school Education. He also attended Comprehensive High School Ayetoro for his higher Secondary School Certificate.
Oluwarotimi was admitted into the famous University of Ife now Obafemi Awolowo University (OAU) IN 1974 popularly known as Oba Awon University. He obtained his LLB degree in 1977 and proceeded to the Nigerian Law School for his B.L in 1978.
The pedigree of Akeredolu tells a riveting story of a rebel with a cause. Apart from his illustrious ancestry and cosmopolitan upbringing, a peep into his tenure as elected Vice President 1975/76, of the student University days at the famous and prestigious University Of Ife now (Obafemi Awolowo University) shows the architecture of service, fame and greatness in the making.
As a leader of the Students Union at Ife, Aketi helped to engineer a leadership focused on issues, robust debates and constructive engagements. He encouraged a genuine mobilization of mass consciousness against inequality, injustice, corruption, arbitrariness and recklessness. By the time he was graduating, the startling and sterling leadership qualities of honesty, tolerance, fairness, transparency, endurance, vision, teamwork, justice and self-respect have all become the chisel which etched out the man's character and ideological leaning in all of his endeavors in the subsequent years.
Personal Life and Family
A devoted Christian with a warm and accommodating heart for people of other faiths, Akeredolu has limitlessly supported a wide range of religious organizations in Ondo State and beyond, an Example of such is the recent dedication of a Chapel of Epiphany at his Owo residence for propagation of Gospel. He was honored by the Lord Bishop of no least a denomination than the Anglican Communion as the Chancellor of the Cathedral of St. Andrews Church, Owo, his hometown.
In addition to a distinguished and Spartan career of legal practice, Aketi also donated his lifetime to a career of mentorship and social service. He was a member, Oyo State Football association, 1992-1994, associate Member, Nigerian Red Cross society, Oyo State Branch. He also accepted and became the Patron, The Nigerian law society, Faculty of Law, University of Lagos, Patron, Breast Cancer Association of Nigeria(BRECAN), Patron The law society, Faculty of Law, Adekunle Ajasin University, akungba-akoko. He was also the Patron, Sports Writers association of Nigeria, Oyo State branch.
Oluwarotimi, a dogged fighter, indefatigable, tenacious advocate, diligent solicitor and one who is unyielding and unbending in any cause he believes in, A gentleman in the finest and truest sense, Arakunrin Oluwarotimi Odunayo Akeredolu, SAN is an accomplished family man. A detribalized Nigerian, Aketi is happily married to Betty Anyanwu-Akeredolu and blessed with four children who are doing well in their chosen careers, His hobbies which includes Lawn tennis, Reading and Singing.
Law Career
As a practicing minister in the Temple of Justice, he served his professional body, the Nigerian Bar Association (NBA) in various capacities both at the Branch and National level such as Secretary, NBA, Ibadan branch 1985-1986, member, national executive Council of NBA from 1985 till date, National Publicity Secretary NBA 1988-1989. Chairman, Legal Aid Council of Nigeria 2005-2006, Vice Chairman, NBA Ibadan Branch 1992-1994, Member, Council of legal Education1997-1999, Life Member, Body of Benchers, Chairman, Legal Aid Council 2005-2006, National President NBA 2008-2010, Member, Council of legal Education 2008-2010, member of council, international Bar Association 2008-2010, Member of Council, Pan African Lawyers Union 2008-2010, member, National Judicial Council, 2010-2012.
In 1998, and as a mark of recognition of his industry, erudition, service and brilliance, he was conferred with the title of Senior Advance of Nigeria, (SAN), and the highest Honour in legal profession in Nigeria.
He is presently a Life Bencher.
Oluwarotimi became the President of Nigerian Bar Association (NBA) unopposed in 2008-2010. infact: he was unanimously nominated as the single and unopposed candidate; he became a brand for principled resistance to all tendencies which sought to undermine the tenets of law and justice. He used his tenure to expand the respect accorded legal practice and its practitioners as well as the judiciary in general. He domesticated asses to justice by providing several platforms for easy engagement between the largely illiterate grassroots public of Nigeria and legal representation. His tenure of leadership was so charismatic that the NBA became and was recognized by successive governments till date as a strong voice and idea bank, to be consulted and respected for honesr and viable alternate view on critical national issues in our country.
In 1997, he was appointed as Attorney General and Commisioner for Justice in Ondo State. His tenure as the Chief Law Officer of that state also marked the institution of monumental initiatives of quality access to justice, proper documentation of proceedings and citations. Apart from being a member of the judicial service commission, he also helped inscribe probity and accountability into government.
Being the days introductory to the return to civil rule in 1999, the period of service as commissioner in Ondo State provided for Aketi, a peep into the minds the political class as well as to the workings of the political process that was to emerge.
Internationally known as a lawyer with exceptional skills and fitness, he is also a reputable social crusader and human right activist and evangelist of ethical society.
A veteran of countless campaigns for leadership intergrity, political freedom, equal rights and justice, Aketi in company of other illustrious patriots prosecuted the bitter struggle to validate the June 12, 1993 Presidential election which was unjustly and wickedly annulled by the then ruling military junta thereby truncating the will of the people as freely expressed.
He also personally led the street protests against fuel hike in Ibadan in January 2012 when government failed to back up their actions with reasons. As a lawyer and humanist Akeredolu's history is replete with humanitarian works and astute mentorship of young people with great but repressed potentials.
Political Career
Akeredolu entered the scene of partisan politics on the platform of the then main opposition party in Nigeria, Action Congress of Nigeria, ACN. Upon sighting him and his bag-full pedigree, Oluwarotimi Akeredolu was embraced by the people with genuine warmth yet unprecedented for a new comer into the murky waters of Partisan politics.
By 2014, when the All Progressive Congress, APC was formed he became the first State Chairman (interim) and foremost mentor to the party in Ondo State. He together with other illustrious leaders led the party to a victorious Presidential Election in 2015. And by 2016 in a free, fair and credible primary election of the party in Ondo State, he was elected as the Governorship candidate for the 2016 Governorship Election.
On November 26th, 2016 when eventually held, Oluwarotimi Akeredolu SAN not only won overwhelmly by popular votes, he defeated his opponents which included an incumbent party and a recalcitrant break away of his part, with an open, incontrovertible and monster landslide victory which shocked everyone including book makers. It was one of those spectacular and particular victories in Nigerian History which was so satisfying that it could not be challenged at the Election Petitions Tribunal set up for angry contestants. Upon being sworn in as Governor on Friday, February the 24th, 2017, he adopted the simple and populist office title of "Mr Governor" translated to "Arakunrin" (My Brother) instead of the elitist cliché His Excellency.
From the days of ACN to the present APC moments, the following are a few of the distinguished contributions of Akeredolu towards the development of his party, the APC.
Candidate of the party in the 2012 Governorship election.
Appearance at Election Petition Tribunals where he and other lawyers represented the party candidates free of charge.
Interim Chairman of APC (Ondo State).
Member of the 2015 APC Presidential Campaign Committee (PCC).
Appearance at Election Petitions Tribunal & Court of Appeal for the party and its House of Assembly(ODHA) candidates at the 2015 election.
Awards
Obafemi Awolowo university alumni association, Ibadan Branch Merit award – 1994.
Sport writer's association of Nigeria, oyo state chapter, legal adviser award-1995.
NBA award in recognition of confer remedy of the rank of Senior advocate of Nigeria-1998.
Loyola College, Ibadan old Boys association, Alumni Merit award.
Law student society, OAU, Award of merit as advocate of repute.
Quatar law forum award of global leader in law-2009.
Nigeria legal awards, 2010- life achievement award and many more.