Rt. Hon Aminu Bello Masari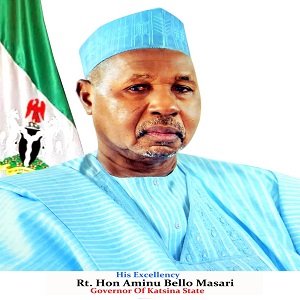 Website: www.katsinastate.gov.ng
Office Date: 29th May, 2015
Address: Government House, Katsina
Birth Date: 29th May, 1950
Birth State: Katsina State
Political Party: All Progressives Congress (APC)
State: Katsina State
Aminu Bello Masari was born in May 29, 1950 in Kafur town, Katsina State.
He attended Kafur/Malumfashi Primary School, Government Secondary School, Funtua AWS Training School, Middlex Polytechnic, London, and the Administrative Staff College, Badagary.
He has a Post Graduate Diploma in Water Quality Control and Management.
He has attended various courses within and outside the country and obtained a postgraduate Diploma in Water Quality Control and Management from Middlesex Polytechnic, United Kingdom in 1982.
He started his career as Technical Assistant (Hydrology) in Katsina Ministry of Works in 1969 and rose to the position of Assistant General Manager (Operations) Katsina Water Board in 1991.
He was Commissioner for Works, Housing and Transport, Katsina State, from 1991 to 1993, and elected member of the Constitutional Conference from1994-1995.
Under the platform of the People's Democratic Party (PDP), he became the Speaker of the House of Representatives of Nigeria from 2003 to 2007 and unsuccessfully ran for the office of Katsina State Governor in the 2011 election on the platform of the Congress for Progressive Change (CPC).
On May 29, 2015, he was sworn in as the governor of Katsina state after running for office under the platform of All Progressives Congress (APC).