Alhaji Muhammad Inuwa Yahaya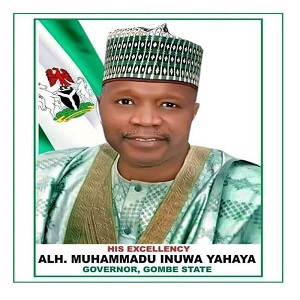 Website: www.gombestate.gov.ng
Office Date: May 2019
Address: Government House, Gombe
Birth Date: 9th October, 1961
Birth State: Gombe State
Political Party: All Progressive Congress (APC)
State: Gombe State
Alh. Mohammed Inuwa Yahaya was born on the 9th of October, 1961 in Gombe local Govt Area of Gombe state to the family of Alh. Yahaya Umaru.
He obtained his primary certificate from Central Primary School from 1968-1974, Government Science Secondary Gombe from 1974-1979 where he obtained his First Leaving Certificate and West African School Certificate respectively. Alh. Inuwa Yahaya has a Bachelor of Science BSc. In Accounting from the famous Ahmadu Beelo University Zaria in 1983. He served at the Nigeria Bank for Commerce and Industry in yola, Adamawa State for the mandatory NYSC.
Alh. Mohammed Inuwa Yahaya is a fellow of several professional bodies like the Association of Nation Accountants of Nigeria (ANAN), Nigeria Institute of Management (NIM) and he is also a member of the Chartered Institution of Taxation of Nigeria (ACITN)
Alh. Muhammed Inuwa Yahaya has experience in both the public and private sectors, he started his working career with the Bauchi state Investment and Property Development Company as Principal Accountant from 1984-1985. He served as a managing Director A.Y.U Civil Engineering Company Ltd from 1993 – 1999. He served in different companies and capacities; presently he is the Chairman and chief Executive, Superior Group and Director Premium Pension L.T.D
Inuwa Yahaya's foray into active politics started into Gombe State Executive Council by the Sen. Muhammed Danjuma Goje and Economic Development for seven years and also incharge of Budgetary planning and control of the state's finances. Chairman Gombe State Investment and Property Development Company Limited compensation and settlement.
Alh. Inuwa is foundation member at the All Progressive Congress (APC) and the party Flag bearer in the 2015 Governorship Election in the state. Alh. Inuwa Yahaya is happily married and blessed with seven children.