Engr. Dave Umahi Nweze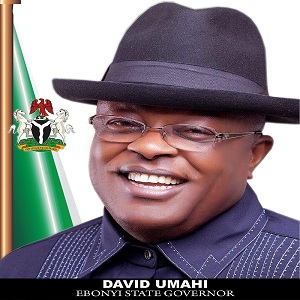 Website: www.ebonyistate.gov.ng
Office Date: May 2015
Address: Government House, Abakaliki
Birth Date: January 1964
Birth State: Ebonyi State
Political Party: Peoples Democratic Party (PDP)
State: Ebonyi State
Engr. Dave Umahi Nweze was born on 1st January 1964 to the family of Elder and Deaconess Joseph Umahi Nwaze in Umunaga Uburu in Ohaozara Local Government Area of Ebonyi State.
He attended Umunaga primary School in Uburu from 1971 to 1977 where he obtained his First Leaving School Certificate with distinction. He began his secondary education at Ishiagu High School where he attended class 1 and class 2 between 1978 and 1979 before proceeding to Government Secondary School Afikpo, where he completed his Secondary Education sitting for his WAEC in Division 1 grade with excellent Alpha performance in Mathematics, Additional Mathematics, Statistics, physics and Chemistry. While in Government Secondary School Afikpo, he was appointed a Library prefect. He proceeded to Anambra State University of Science and Technology for his higher education where he obtained a Bachelor of Science Degree in Civil Engineering in 1987. While in Anambra State University of Science and Technology, he was elected into the students' parliament as a Senator representing Engineering Faculty and was extremely outstanding in all proceedings of the school senate.
Engr. Dave Umahi Nweze's professional career began immediately after completing his one year mandatory National Youth Service Corp (NYSC). He started off as an Engineer with SCC Nig. Ltd; an Israeli Company (Water Engineering Giant) and rose to the position of project Engineer. Some of the projects under his supervision at the time include the historic Umuahia Water Project and the Ndiegoro Aba Flood Control measures between 1988-1990. By 1993 he had emerged General Manager and shareholder with Norman Engineering and Construction Nig. Limited a company he cofounded alongside the then MD of National Fertilizer Company of Nigeria (NAFCON) Port-Harcourt, Dr. Ombo Isokarari. He was also Chairman and CEO of the following companies: Brass Engineering & Construction Nig Ltd, Focus Investment Nig. Ltd, and Osborn La Palm Royal Resort Ltd until march 2011, when he resigned his position to pursue his political ambition as the Deputy Governor of Ebonyi State.
In May 2015, Engr. Dave Umahi Nweze contested for the gubernatorial elections under the umbrella of the Peoples Democratic Party (PDP) and emerged winner, hence, Governor of Ebonyi State.