Alhaji Kashim Shettima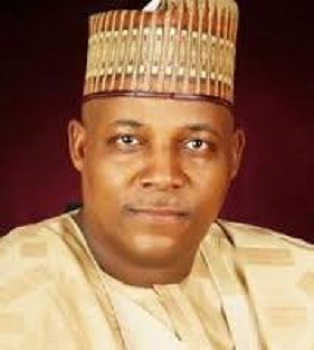 Website: www.bornostate.gov.ng
Office Dates: May 2011
Address: Government House, Maiduguri
Birth Date: 2nd September 1966
Birth State: Borno State
Political Party: All Progressive Congress (APC)
Spouse: Hajiya Nana Kashim Shettima
State: Borno State
Alhaji Kashim Shettima was born on 2nd September 1966 in Shettimari, Shettima Mustafa Kuttayibe, Borno State.
His quest for education started at the Lamisula primary school Maiduguri between 1972 and 1978, before proceeding for his Secondary School education at the Government Community Secondary School, Biu in 1978 where he got the West African School Certificate Examinations (WAEC) in 1980. He was admitted into the University of Maiduguri for his first degree programme in 1983 and by 1989, he obtained the Bachelor of Science (Honours) degree in Agric Economics, second Class Upper Division. For his National Youth Service he worked with the Nigerian Agricultural Cooperative Bank in Calabar from 1989 to 1990. He then attended the University of Ibadan from 1990 to 1991, gaining a Master's Degree in Agricultural Economics. Having a master's degree earned him elevation to a higher grade of lecturer II in the Department of Agricultural Economics, University of Maiduguri in 1993, although he started lecturing by 1991.
Alhaji Shettima worked with the Commercial Bank of Africa as an Agricultural Economist at its Ikeja Office, Lagos State (1993-1997). He then became a deputy manager, later manager, at the African International Bank Limited, Kaduna Branch (1997–2001), and was appointed Deputy Manager/Branch Head of the Zenith Bank's Maiduguri Office in 2001, becoming General Manager five years later. In mid-2007, he was appointed Commissioner of the Borno State Ministry of Finance and Economic Development. Later, he became Commissioner in the Ministries of Local Governments and Chieftaincy Affairs, Education, Agriculture and later Health under his predecessor as Borno Governor Ali Modu Sheriff.
In the January 2011 ANPP primaries, Engineer Modu Fannami Gubio was selected as candidate for the governorship. However, Gubio was later shot dead by gunmen, and Shettima was selected in a second primary in February 2011, later winning the general elections on April 26, 2011. After his first term as Borno State governor, he went on a re-election bid and got elected for a second term in April 2015.