Chief Willie Obiano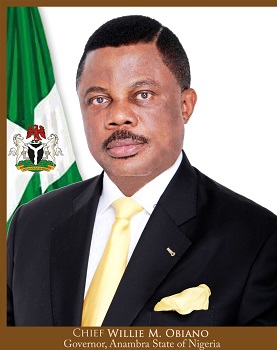 Website: www.anambrastate.gov.ng
Office Date: 17 March, 2014
Address: Government House, Awka
Birth Date: 8 August 1957
Birth State: Anambra State
Political Party: All Progressives Grand Alliance
Spouse: Chief Mrs. E V Obiano
State: Anambra State
Willie Obiano is a native of Aguleri in Anambra East Local Government Area of Nigeria. He was born on August 8, 1957.
Willie Obiano's earliest education was at the Holy Trinity Primary School Onitsha where had his primary education. For his secondary education, he attended Christ the King College, Onitsha, where he obtained his West African School Certificate. After this, he proceeded to the University of Lagos where he obtained a B.Sc. Second Class Upper in Accounting in the year 1979 and an MBA in Marketing in the year 1993.
Willie Obiano was very outstanding while in school. In the year 1974 at C.K.C. Onitsha, he won the John F. Kennedy Award for Essay. During his National Youth Service, he was awarded a national Merit Certificate for outstanding service in Benue State and the Best Youth Corper Award.
Willie Obiano worked at the First Bank of Nigeria as a Supervisor in 1981. He worked with Texaco as the refineries and bunkering auditor. Before joining the Fidelity Bank in the year 1991, Willie Obiano was the Chief International Auditor of Texaco.
At Fidelity Bank, He was a Deputy Manager and Head of Audit. Shortly after he joined the bank, he was elevated to the position of a manager. Then in the years 2003, he became an Executive Director, having been General Manager in the immediate past year.
Apart from academic Award, Willie Obiano have also bagged several professional awards such as Distiguished Banker of the Year 2012 Award. Willie Obiano is a Fellow of the Institute of Chartered Accountants of Nigeria (ICAN); Patron, Institute Of Chartered Accountants of Lagos (Mainland); President, AMP8 (Advance Management Programme) of Lagos Business School for Ten years period; Member, 2006 Building New Ventures; Member, Harvard University, USA CLASS, Member, Harvard Business School, Boston USA and Stanford University.
In November 2013, Willie Obiano became the governor of Anambra State, having successfully contested for the position under the platform of the All Progressive Grand Alliance (APGA).