Mr. Udom Gabriel Emmanuel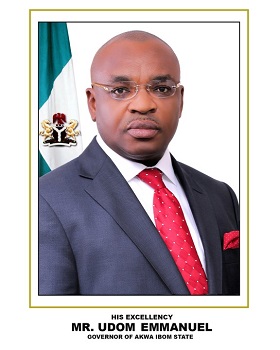 Website: www.akwaibomstate.gov.ng
Office Date: May 2015
Address: Government House, Uyo , Akwa Ibom, Nigeria
Birth Date: 11th July 1966
Birth State: Akwa Ibom
Political Party: People's Democratic Party (PDP)
Spouse: Mrs. Martha Udom
State: Akwa Ibom State
Mr. Udom Gabriel Emmanuel was born 11 July 1966 to the family of Mr. Gabriel Emmanuel Nkenang a native of Awa Iman in Onna Local Government Area of Akwa Ibom State, Nigeria.
He attended Secondary Commercial School, Ikot Akpan Ishiet, Onna LGA of Akwa Ibom State, from where he obtained his West African Examination Council's Certificate (WAEC). He proceeded to the School of Arts and Science, Uyo, Akwa Ibom State, where he received his Advanced Certificate of Basic Studies (CBS) and a Higher School Certificate (HSC), and transferred to the University of Lagos, Nigeria, where he obtained his Bachelor's degree in Accounting, in 1988. In addition to his academic laurels is a certificate in Advanced Management Program he obtained at INSEAD Business School in Fontainebleau, France. He is a Chartered Accountant by profession and trained with Price Waterhouse Coopers. He is also a Fellow of the Nigerian Institute of Management.
Mr. Udom had a vibrant career in the financial sector serving in various capacities for well over 17 years. He began his career with Diamond Bank and later joined Zenith Bank in 1996 as a pioneer manager with the Lagos Central Branch. While there he drove the Telecommunications Sector, Income Optimization, Financial and Strategic Planning Group of Zenith Bank Plc. He was also an Associate of the Chartered Institute of Taxation of Nigeria. He rose through the ranks at Zenith Bank as a Chief Financial Officer. Amongst many of the hierarchical position he held while with the bank include Group Head of Income Optimization, Financial Control & Strategic Planning Department as a General Manager and Executive Director on the Board of Zenith Bank till December 2006. Mr. Udom also served as a Audit Manager of Price Waterhouse Coopers; Executive Director Africa Finance Corporation (AFC); Director, Nigerian Inter-bank Settlement Systems (NIBBS); Non-Executive Director, Zenith Bank, United Kingdom; Zenith Bank- Gambia; Zenith Bank-Sierra Leone; Zenith Insurance; Zenith Pensions and Custodian; Zenith Securities; Zenith Trustees and Zenith Registrars
His political Career began in 2013 with his appointment as the Secretary to the State Government of Awka Ibom. In 2015, he emerged winner in the gubernatorial elections and was sworn in as the Governor of Akwa Ibom State.