Dr. Bello Muhammad Matawalle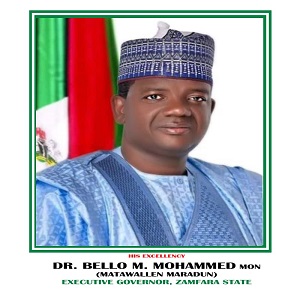 Website: www.zamfarastate.gov.ng
Office Date: May, 2019
Address: Government House, Gusau.
Birth Date: 12th February, 1969
Birth State: Zamfara State
Political Party: Peoples Democratic Party (PDP)
State: Zamfara State
Bello Muhammad Matawalle is the current Governor of Zamfara State, Nigeria. He contested under the platform of the Peoples Democratic Party (PDP).
Dr. Bello Matawalle, born February 12, 1969, in Maradun Local Government Area of Zamfara, Mr Matawalle attended Maradun Township Primary School finishing in 1979. He attended to Yaba College of Technology, Lagos and later went to Thames Valley University, London.
Matawalle's first shot in politics was in 1998 when he ran for a house of assembly seat and won after he left the Federal Ministry of Water Resources, Abuja, joining the defunct United Nigeria Congress Party (UNCP).
Matawalle contested under the platform of United Nigeria Congress Party (UNCP). But after the death of Sani Abacha, military dictator, Abdulsalami Abubakar, his successor, dissolved the political parties and announced that elections would hold in 1999.
Between 1999 and 2003 he served as Zamfara State Commissioner for Local Government and Chieftaincy Affairs, Commissioner for Environment, Rural Development and then Commissioner for Youth and Sports.
Matawalle was elected into the House of Representatives by his constituents Bakura/Maradun in May 2003 on the platform of the defunct All Nigeria Peoples Party (ANPP).
Matawalle was re-elected in 2007 still on the platform of the ANPP only to defect to PDP on which platform he was re-elected for a third term in 2011.
Matawalle polled 189,452 in the March polls as against the 534,541 votes for Muktar Idris, the APC candidate.
Muktar Idris was at first, issued the certificate of return, however, the court of appeal in Sokoto ordered that the INEC should withdraw the certificate.[4]
The Supreme Court later pronounced that the votes cast for the APC in the election as wasted and ordered that the candidate with the second highest votes be sworn in on Wednesday. This is because the APC failed to conduct primary election for all the candidates in Zamfara State.
Dr. Matawalle is married to four wives and blessed with children.