Alhaji Abubakar Sani Bello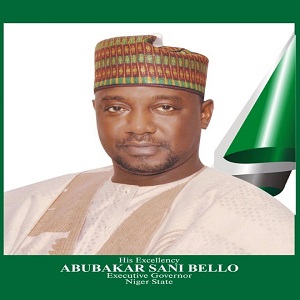 Website: www.nigerstate.gov.ng
Office Date: May 2015
Address: Government House, Minna
Birth Date: 17th December 1967
Birth State: Niger State
Political Party: All Progressive Congress (APC)
State: Niger State

Alhaji Abubakar Sani Bello was born on 17 December 1967 to the family of Col. Sani Bello (RTD) in Kontagora, Niger State.
He attended ST. Louis Primary School Kano where he obtained his certificate of primary education in 1979. He proceeded to the Nigerian Military School Zaria for his secondary school education in 1980 and obtained a General Certificate of Education Ordinary Level (SC/GCE) in 1986. In 1986, he proceeded to the University of Maiduguri for his higher education, obtaining a Bachelor Degree (BSc.) in Economics in 1991.
He started his career working as a supervisor with NICOTES Services during his one-year mandatory National Youth Service Corp (NYSC) programme in 1991. In 1994, he worked for a year with Off Shores Pipelines International (OPI) shipping before he was appointed Alternate Director with Broad Bank in 1994 where he served till he became a board member in 2000. Between 2000 and 2005 he doubled as a board member with Broad Bank, Chairman/CEO of Millennium Travels, Properties and Estate Limited, Dornier Aviation Nig. AIEP Limited (DANA), Heritage Hospitality Services, Prudent Health Care Management, Investment Center Limited and an Alternate Director with MTN where he served till 2009.
Alhaji Abubakar Sani Bello is a member of many committees including but not limited to the Board Establishment Committee Broad Bank, Interim Management Committee DANA, Sub-Committee on Facilities and Infrastructure for Proposed Minna Multi-purpose Sport Complex Niger, Committee on former Presidents Resource and Legacy Centre Niger State Government and Federal University of Technology Board of Trustees FUT Minna. He is a fellow of the Institute of Industrialist and Corporate Administrators.
In 2009, he was appointed Honorable Commissioner, Ministry of Investment, Commerce & Co-operatives, Niger State Government; a position he held for a year before returning back to chair his many businesses.
In May 2015, he contested in the gubernatorial election under the membership of the All Progressive Congress (APC) and emerged winner, hence, Governor of Niger State.