Dr. Abdullahi Umar Ganduje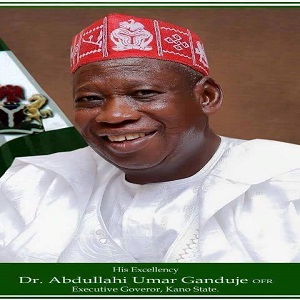 Website: www.kanostate.gov.ng
Office Date: May 2015
Address: Government House, Kano
Birth Date: 25th December 1949
Birth State: Kano State
Political Party: All Progressive Congress (APC)
State: Kano State
Dr. Abdullahi Umar Ganduje was born on 25 of December 1949 to the royal family of Alhaji Umar Shi'aibu Village.
He attended Dawaki Tofa Primary School from 1956 to 1963. In 1984, He proceeded to Government Secondary School Birnin Kudu for his Secondary School education. He also attended the Advance Teachers' College Kano where he obtained his Nigerian Certificate of Education (NCE) in 1972. In the same year he proceeded to Ahmadu Bello University Zaria for Bachelor degree in Science Education. He went further to pursue a Masters degree in Applied Educational Psychology from Bayero University Kano in 1979 and another Masters in Public Administration at the Institute of Administration, Ahmadu Bello University, Zaria from 1984 to 1985. In 1989, he proceeded to the University of Ibadan for a PhD in Public Administration.
He began his career as a teacher in 1975 at Oleh College in the South-South geopolitical zone of Nigeria during his one year mandatory National Service Corp (NYSC) Programme. After the one-year programme, he was employed by the Kano State Ministry of Education as Education Officer II in 1976 but left later that same year for the Advance Teachers' College, Kano to take up a position as Lecturer I1 in Educational Psychology. In 1978, Dr. Abdullahi Umar Ganduje got an appointment with Bayero University Kano as Lecturer I. Later, he took up an administrative job with Nornit Limited Kano as Personnel Manager in 1979. In the same year he joined the Federal Capital Development Authority (F.C.D.A) Abuja serving in various capacities including Development Secretary Kwali Development Area), Executive (Secretary, Resettlement and Compensation -FCT), Deputy Director (Corporate Affairs Division), Sole Administrator, Abaji Area Council), Chairman (Gwagalada Area Council), Secretary (FCDA Tender Board), Acting Director (Personnel Department). He proceeded to join the Kano State Government in 1994 as Honourable Commissioner Ministry of Works, Housing and Transport.
Dr. Abdullahi Umar Ganduje joined People Democratic Party (PDP) and later became the deputy of the Governor and Hon. Commissioner for Local Government to Engr. Rabi'u Musa Kwankwaso from 1999 to 2003. From 2003 – 2007, he served as the Special Adviser (Political) to the Hon. Minister of Defence, Federal Republic of Nigeria. In 2009, Dr. Abdullahi Umar Ganduje appointed the Executive Secretary Lake Chad Basin Commission at Ndjamena, Chad Republic. He was also elected President of TAABITAL PULAKU International (Nigeria chapter). Dr. Abdullahi Umar Ganduje also participated as a member, Nigerian Political Reforms Conference 2006.
In 2011, was elected as Deputy Governor of Kano State. He contested for in the gubernatorial election in May 2015 under the membership of the All Progressive Congress (APC) and emerged victorious.