Alhaji Badaru Abubakar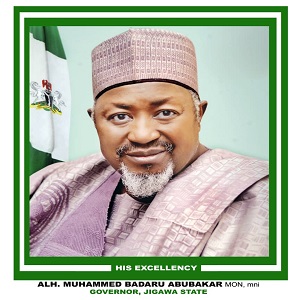 Website: www.jigawastate.gov.ng
Office Date: May 2015
Address: Government House, Dutse.
Birth Date: 1962
Birth State: Jigawa State
Political Party: All Progressive Congress (APC)
State: Jigawa State
Alhaji Badaru Abubakar was born in 1962 at Babura town in Jigawa State, Nigeria.
He holds a B.Sc in Accounting from the famous Ahmadu Bello University (ABU) Zaria. He also attended the National Institute for Policy and Strategic Studies (NIPSS) Kuru, Jos.
Alhaji Mohammed Badaru Abubakar is a member of the National Council on Privatization, Federal Republic of Nigeria. The Second Vice President of the Federation of West Africa Chamber of Commerce (FEWACCI) which is the regional body of Chambers of Commerce in the West African region.
He served as an Auditor with the Audit Department of the Ministry of Finance and Economic Planning, Kano State, in 1987 and resigned in 1991 to establish his business outfit Talamiz Company. Talamiz Company was later incorporated as Talamiz Nigeria Limited, which later gave birth to subsidiaries such as Talamiz Motors, Talamiz Consumer Company, Talamiz Transport, Talamiz Commodities, Talamiz Properties, Talamiz Poultry and Farms, and Talamiz Petroleum. He is also the Chairman of Talamiz Oil Mill Limited, Socar Talamiz Limited, RMR shipping Bv, AML Bonded Terminal, ALUAFRIC Cairo and a Director of Sahih Nigeria Limited.
Alhaji Mohammed Abubakar Badaru is a Recipient of National Honour of the Member of the Order of the Niger (MON) and Traditional Titles Holder of Sardauna of Ringim Emirate, and Wali of Jahun, all in Jigawa State as a result of his socio-economic contributions and development in Jigawa state and Nigeria as a whole.
Badaru Abubakar ran unsuccessfully for election as the governor of Jigawa state on April 26, 2011 but lost to Sule Lamido of the Peoples' Democratic Party (PDP).
In April 2015, Alhaji Badaru Abubakar, under the umbrella of All Progressive Congress (APC) ran for the post of the governor of Jigawa state. He won and was declared winner of the elections. He was sworn in on May 29, 2015.