Hon. Lawrence Ifeanyi Ugwuanyi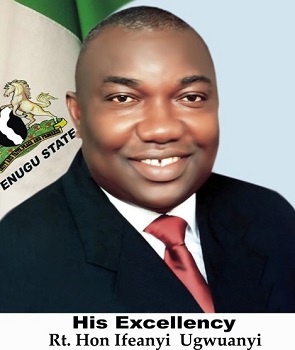 Website: www.enugustate.gov.ng
Office Date: 29th May, 2015.
Address: Government House, Enugu
Birth Date: 20th March, 1964
Birth State: Enugu State
Political Party: People's Democratic Party (PDP)
State: Enugu State
Lawrence Ifeanyi Ugwuanyi was born on 20th March 1964. He hails from Orba Town in Udenu Local Government Area of Nsukka Zone in Enugu State.
He holds both Bachelor and Master's degrees in Business Administration from University of Nigeria, Nsukka.
Before venturing into politics, Ifeanyi Ugwuanyi was the General Manager of Premier Insurance Brokers Limited, Enugu and was the president of the Rotary Club of Emene in Enugu State.
In 2003, he was elected into the Federal House of representatives under the platform of People's Democratic Party (PDP), representing Igbo-Eze N/Udenu consistuency. He served for two terms and exited the position in 2011.
As a member of the House of Representatives of Nigeria, he served as the Chairman, House Committee on Marine Transport.
Following his party's primary election of 8 December 2014 in Enugu, Ugwuanyi successfully won PDP's gubernatorial ticket and contested in the April 2015 general elections. He was sworn in as the current governor of the state on May 29, 2015.